About our products...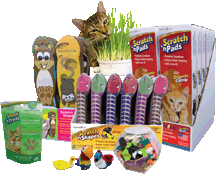 Since 1986, Imperial Cat has manufactured eco-friendly and all-natural cat products of exceptional quality. We are dedicated to creating safe, fun and functional products that enhance the lives of cats and the people that love them. From scratching and playing, to snacking and grooming, nobody offers more ways to promote the happy, active lifestyle of a feline than Imperial Cat.
About us...
As a family-owned and operated company, we retain a level of customer service and product quality that remains unmatched by our competitors. Our business depends on customer satisfaction, which is why we are committed to ensuring you are 100% satisfied with our products.
At Imperial Cat, cats are part of our family. In addition to our hard-working human staff, we "employ" a team of office cats that rigorously test our products to ensure they are cat-approved!
Stay in touch...
We love to hear from our customers! Send your questions, comments or photos to info@imperialcat.com. And for our social savvy friends, keep up with us on Facebook and Twitter.


Contact us
Imperial Cat
900 W. Church St.
PO Box 1001
Morrilton, AR 72110
info@imperialcat.com
Toll Free: 1-800-783-0977
Direct Line: (501) 354-8466
Fax: (501) 354-4843
Hours: Mon-Fri 8am-4:30pm CST