Owning a cat can sometimes get messy..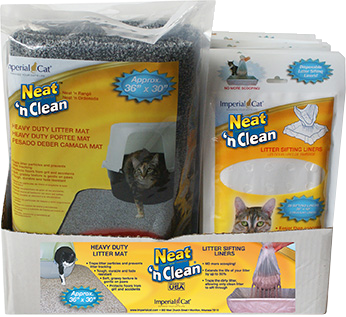 but Imperial Cat makes it easy for feline households to keep the focus on enjoying their cat, not cleaning up after them. Our Neat ´n Clean product line provides solutions to the messiest problems cat owners face. From litter tracking and litter scooping, to grooming and stain and odor removal, we've got it covered!
Essential & Superior
Since most cats are not able to pick up after themselves, we introduce our Neat ´n Clean products. All products have been cat-tested to insure quality. At Imperial Cat, we offer dependable, durable and reliable products to help make clean up time that much easier.
From grooming to cleaning, we've got it covered!
Heavy Duty Litter Mat
Protects floor from grit and accidents
Made in the USA!
Extra Wide – 36" x 30" Surface

Litter Sifting Liners
No more scooping!
Extends the life of litter
Measures 36" x 40"

Litter Scoop
Extra long handle means no more kneeling over a smelly litter box! Measures approx. 20" high

Pet Care
Easy dental care - teeth cleaning water additive, teeth cleaning food spray, to clean and freshen teeth and gums. Cleaning dirty cat and dog ears and weeping tear stains

Kitty Wipes
Natural and non-toxic
15 jumbo wipes per package
Measures 7.5" x 10"