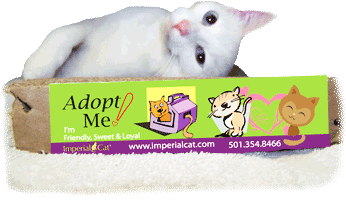 Imperial Cat strives to enhance the lives of all cats – including the cats awaiting forever homes in animal shelters nationwide. Here are a few of the ways we give back:

Scratch Pads with Cat Adoptions
Imperial Cat provides animal welfare organizations with coupons to include in adoption packets that may be redeemed for a Cat Claws scratching pad. At redemption, the adopter pays $4.95 (includes S&H), which is discounted off our standard shipping charge of $8.95 on orders under $25.00 (this equals a total savings of $10.50). Since 1995, we have shipped more than 75,000 scratch pads to adopters! If your organization would like to receive these coupons, call 1-800-783-0977 and ask to speak with the Shelter Outreach department or email info@imperialcat.com. There is no cost to order these.


Adopt-a-Cat Scratch 'n Bits
Scratch 'n Bits for Cages are extremely affordable scratching pads that are the purr-fect size for shelter cages. Scratching allows cats to stretch and tone their muscles & it helps alleviate stress -- two things caged cats can really benefit from! The smaller Scratch 'n Bits feature cute graphics or "Adopt Me" logos to attract the attention of prospective adopters. For shelters with Cat Rooms or Foster Homes, we also have larger Scratch 'n Bits available, as well as full size "Grade B" Scratch 'n Shapes, which are scratchers that don't quite make the cut for retail sale, but are still 100% scratchable!
If you'd like to donate a case of Scratch 'n Bits to your local shelter CLICK HERE. If you are an animal shelter or rescue, please contact us by phone at 1-800-783-0977 (ask for the Shelter Outreach department) or email info@imperialcat.com and we will provide you with ordering information.

Discounts for Non Profits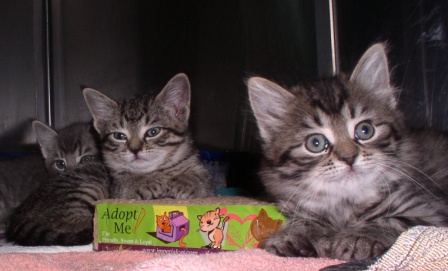 We offer 501(c)(3) organizations a 10% discount off wholesale prices. Other animal welfare organizations that are not registered non profits may also order from us at wholesale prices. For access to our wholesale site, please register HERE.

Product Donations
We receive hundreds of requests for product donations yearly and regret that we are unable to accommodate every need. However,if you are hosting a charitable event to benefit an animal welfare organization and are looking for product donations for a silent auction or raffle,you may send an email to info@imperialcat.com with the event details, and we will give it consideration.
Giving to Our Community
Our company gives back to our local community of Morrilton, Arkansas by offering discounted spay/neuter vouchers for those needing financial assistance with having their cat spayed and neutered. This program has resulted in a significant decrease in the population of stray cats in our area.