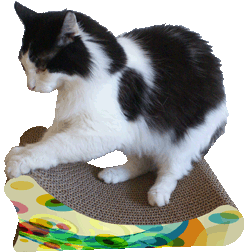 Earth-friendly, Superior & Innovative Cat Scratchers!
Check out our line of eco friendly themed scratchers that will not only nourish a cat's instincts, but will add some pizzazz to any home's decor.
See our New Items and Patterns!
Click here to see where you can purchase our great items online, or click here to see if you can find a local store in your area that carries our wonderful Imperial Cat items!
Scratch 'n Shapes Cozy Curl- Chicken
Measures approx. 4.5" H x 9" D x 15" W. Comes with Certified Organic Catnip.

More Patterns Available

Scratch 'n Shapes Sleigh Bed
Measures approx. 5.5" H x 9" D x 15.25" W. Comes with Certified Organic Catnip.

More Patterns Available!

Scratch 'n Shapes Country Lounge- Farm Scene
Measures approx. 3.75" H x 9" D x 15" W. Comes with Certified Organic Catnip.

More Patterns Available

Scratch 'n Shapes Giant Slumber
Measures approx. 4.25" H x 9" D x 34.25" W. Comes with Certified Organic Catnip.

More Patterns Available!

Scratch 'n Shapes Rub 'n Ramp
Measures approx. 9.75" H x 9" D x 16" W. Comes with Certified Organic Catnip.

More Patterns Available

Scratch 'n Shapes Small Purr-fect Stretch
Measures approx. 2.75" H x 7" D x 14.25" W. Comes with Certified Organic Catnip.

More Patterns Available