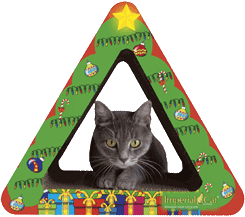 Happy Holidays! From all of us here at Imperial Cat!
Season's greetings to you and yours! While you are busy shopping for gifts and presents for your loved ones, we make it easy for you to shop for your cat.
For the festive kitty, we have our line of eco friendly themed toys and scratchers that will not only nourish a cat's instincts, but will add some seasonal pizzazz to any home's decor.
See our Seasonal/Winter Themed Items
Click here to see where you can purchase our great items online, or click here to see if you can find a local store in your area that carries our wonderful Imperial Cat items!
Organic Catnip Toys
Our Cat ´n Around Catnip Toys will provide
countless hours of fun. All three of the
seasonal shapes - Petey the Penguin, our
Holiday 3 Pack, and Sam the Snowman, are
filled with our organic catnip.

Holiday Cat & Kitten Kits
Everything that your cat could want for Christmas
all in one kit! Kits contain 1 seasonal Scratch ´n
Scratcher, a 9 gram bag of our organic catnip
Easy Grow Oat Seeds, 1 Tease ´n Wand, and a
seasonal catnip toy -all items are assorted.


Christmas Tree
Our two-in-one Christmas Tree scratcher is
the purr-fect present for kitty this holiday
season! Great for multi-feline homes or for
one kitty that is on Santa's Nice List.

Giant Christmas Tree
Another holiday two-in-one scratcher is sure
to get any cat in the holiday spirit! Our Giant
Christmas Tree has the perfect angle for
scratching. Sure to add holiday flare to any
room in the house!

Holiday Hanging Scratchers
For cats that prefer to scratcher vertically we
offer hanging scratchers in an assortment
of styles. With our Snowman, Candy Cane, and
Christmas Tree, you are sure to find one that
both you and your cat will enjoy.

North Pole Express
Choo-Choo! All aboard the North Pole Express!
With this scratcher, your cat will feel as if they
have a first class ticket to see Santa at his work
shop!

Sleigh
Another way for your cat to get to the North Pole
is by Sleigh! Kitty will be able to rest
comfortably because of the slope that is peftect
for scratching and snoozing.

Reindeer
How else would our sleigh get around without
the help of Reindeer! Our Reindeer scratcher
has two scratchers in one, making it perfect for
multi-feline homes. Sure to add holiday flare!